Beginning Friday April 1, 2022, all Spectrum Compliance Applicant File Pre-Approval reports will be issued through our ShareFile portal.
A Spectrum ShareFile account is required to view and download reports. To add or remove a user please contact Lesley Murray lmurray@spectrumlihtc.com.
ShareFile upload confirmation emails no longer need to be forwarded.
The reports will be located in the "Reports" subfolders located in each property's ShareFile folder. All reports uploaded into the portal will remain in the Reports folder unless otherwise requested. Previous reports sent out via email will not be in the ShareFile portal.
Where to find reports:
Enter in the ShareFile account email and password.
Click Folders located on the top left side of the screen.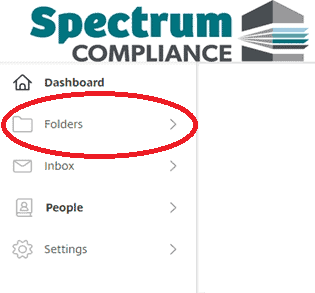 Click Shared Folders. You should see the property or properties you have requested access to.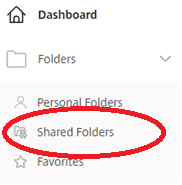 Click your property folder to view all subfolders.
Click the Reports subfolder.

Check the box next to the report PDF and click download.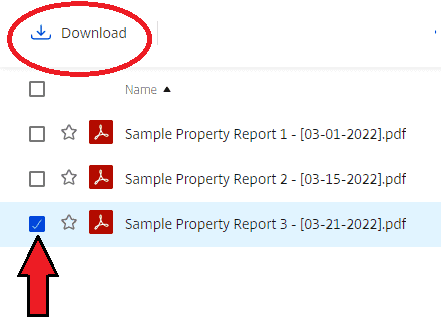 If you choose to receive confirmation emails, you will receive automatic emails from submissions@spectrumlihtc.com once a report has been uploaded. See sample screenshot below. Click the Client Name>Property Name>Reports link and you will be brought directly to the property's report folder for you to view and download reports.
Example of a ShareFile confirmation email showing a report has been uploaded: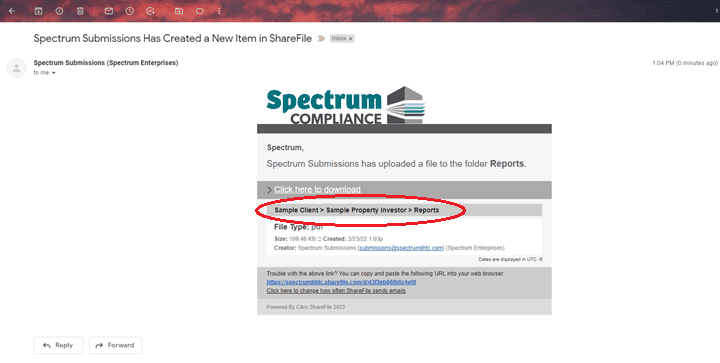 We are excited to begin sharing reports in a secure and simple format. Let us know if you have any questions.
Lesley Murray lmurray@spectrumlihtc.com
Lainey Nadeau lnadeau@spectrumlihtc.com
Dan Warren dwarren@spectrumlihtc.com